A cracker is a thin, crisp, edible wafer biscuit. It is often eaten with cheese but also with slices of meat or butter. Crackers with cheese on them are most popular in parties and are usually served with cheddar. Crackers are also crumbled up and sprinkled on soup. If the soup is French Onion Soup it is probably served with Provolone cheese.
Popular types of cracker
Edit
Popular brands of cracker include: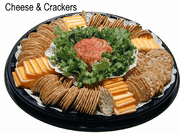 Ad blocker interference detected!
Wikia is a free-to-use site that makes money from advertising. We have a modified experience for viewers using ad blockers

Wikia is not accessible if you've made further modifications. Remove the custom ad blocker rule(s) and the page will load as expected.