Sardo
is a hard, grating cow's milk
cheese
that is similar to
Pecorino Romano
, although the latter is made from sheep's milk and is sharper. Sardo comes from
Argentina
, and is not to be confused with
Pecorino Sardo
, another Italian sheep's cheese. Sardo is traditionally coagulated by animal
rennet
which is the inner lining of the fourth stomach of calves and other young ruminants. Therefore, it is not a
vegetarian
cheese. Its flavor is mellow, yet rich, and lightly salty. It is white-yellowish in color and is sold in blocks of about 6.5 pounds. Sardo cheese meets the U.S. Standards of Identity for cow's milk. It makes a good choice for snack cheeses or for cooking purposes.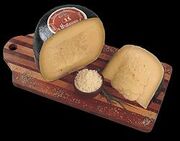 Ad blocker interference detected!
Wikia is a free-to-use site that makes money from advertising. We have a modified experience for viewers using ad blockers

Wikia is not accessible if you've made further modifications. Remove the custom ad blocker rule(s) and the page will load as expected.