Tombea is a cheese produced in the pastures in the municipality of Magasa in the province of Brescia, Italy.
Characteristics
Edit
Made from milk from Bruna-breed cows, it is packaged into 10 to 12 cm (4-5 in)-high, cylindrical wheels, which are slightly convex and possess a diameter between 35 and 45 cm (14-18 in).
After 20-24 months, the cheese is medium-aged. The wheels have a variable final weight of 10 to 18 kg (22-40 lb) and can be distinguished by their brown rind and the intense yellow color of the interior of the cheese.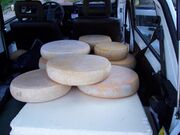 Tombea obtained its name from Mount Tombea and is produced from March till September in the pastures of Tombea, Bait and Corva, which are situated in the territory of the municipality of Magasa. In that area, it plays the main role at the "Festa del Formaggio" (cheese festival) which is held on the second Sunday of September on the high plains of the mountain Cima Rest (Mount Rest).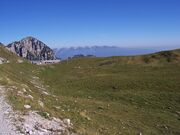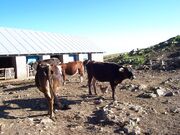 In 2001, Tombea cheese won the first prize in the "historic cheese" category at the cheese competition held during the "Franciacorta in Bianco" (Franciacorta in White) festival, and in 2002 it was presented as "bastion of slow food" at the "Salone del Gusto" (Salon of Taste) in Torino. In 2010, "Tombea" was assigned the "Marchio d'Impresa Collettivo" (collective company label) which "certifies that the cheese was produced according to very strict production rules, most important being the old-established system of working the raw milk in the municipality of Magasa and the traditional aging process.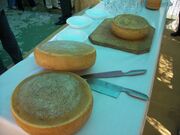 References
Edit
"Magasa: un marchio sul formaggio" ("Magasa: a label on the cheese"), article in the newspaper "Giornale di Brescia" from September 14, 2010.
Ad blocker interference detected!
Wikia is a free-to-use site that makes money from advertising. We have a modified experience for viewers using ad blockers

Wikia is not accessible if you've made further modifications. Remove the custom ad blocker rule(s) and the page will load as expected.