"Life is like a block of cheese, hard and smelly"
~Anonymous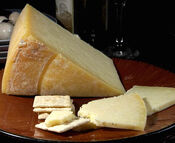 The Community Portal is a great way to find out what's going on at WikiCheese. Here you can learn about the latest active projects at the wiki.
WikiCheese is still getting off the ground! Help us expand the wiki by:
And anything else you can think of.
Ad blocker interference detected!
Wikia is a free-to-use site that makes money from advertising. We have a modified experience for viewers using ad blockers

Wikia is not accessible if you've made further modifications. Remove the custom ad blocker rule(s) and the page will load as expected.